Affiliate Program
Join our FREE online Affiliate Program, and make extra money by selling Sun Flower Gallery products right on your site! Sun Flower Gallery is a family owned and operated florist and offers custom finest flower arrangements, plants and gift baskets.
Our program will earn you 20% unbelievable commission on every sale referred from your site.
We provide you with all of the tools you need to promote us on your website (text or graphic advertisements, including the many professional marketing tools we provide to you) and we handle all the ordering, shipping, and billing processes.
JOIN NOW OUR FREE AFFILIATE PROGRAM and start generating revenue for your site!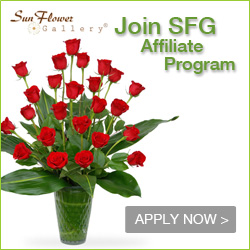 If you have any questions please contact us about our Affiliate Program
Call Us:
847-998-1430
Mail Us:
Sun Flower Gallery
2700 Patriot BLVD, suite 250
Glenview, Il. 60025
Email Us:
contact@chicagofuneralflorist.com